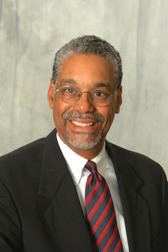 Ralph Mitchell
Ralph Mitchell is a highly sought-after speaker and trainer who is garnering recognition in the areas of motivation, coaching and goal setting. He has the respected reputation as a dynamic speaker/trainer who provides solid content and uplifting presentations to businesses, associations and educational institutions.

Ralph Mitchell's background from research associate at MDC, Inc. in Chapel Hill, North Carolina to the senior consultant to the Public Administration Program at North Carolina Central University in Durham provides him with organizational insight. He held a position of senior faculty member at the Center for Creative Leadership for 15 years. His focus is on leadership, personal and professional development and related topics.
Ralph creates a unique experiential learning atmosphere that leaves his audience inspired to achieve at their peak. He has the remarkable ability to capture and hold an audience's attention with stories, humor, examples and wisdom.
Ralph addresses and conducts training for thousands of men and women each year. He has traveled and worked in several countries. As an avid reader of management, psychology, leadership, and history and he brings a breadth of wisdom and experience to his speeches and training sessions. He is dedicated to creating, nurturing, and maintaining an environment of growth, challenge, and unlimited potential for his clients.
Ralph received a B.S. from Knoxville College, Knoxville, Tennessee. He has also attended the Young Executive Institute and the Graduate School of Business Administration at the University of North Carolina at Chapel Hill. Ralph is certified in a variety of training programs and training tools.